Please enter search criteria
End of Term Buyback
Please check back at a later time for Fall 2018 dates and times!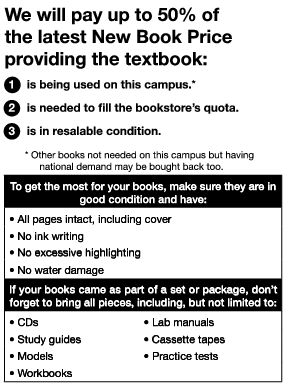 Buyback Information
UMBC or government issue ID required for buyback
End of term and back to school buyback dates are posted regularly. The bookstore pays 50% of the retail price for needed texts during these times.
Buyback takes place the week of finals for the Fall and Spring semesters. Look for our advertisements for exact dates each semester, or call the textbook desk at 410-455-2699.
Buyback Pricing Guide
Retail: Represent those titles our campus instructors have adopted and, if in resalable condition, generally earn 50% of the retail price until we reach our quota.
Wholesale: Are purchased if they are not needed on our campus, but have a national demand. Up to 35% of the retail price may be paid for these books in resalable condition.
No Value: We do not buy photocopied course packets, damaged books, and most old editions.